ACOUSTIC SOLUTIONS
Lafarge Cormet™ Acoustic Floor
Lafarge Cormet™ Acoustic Floor is designed as a separating floor between and within dwellings and can be used with Lafarge Wall Lining and partition systems. The system is intended for conversion and improvement work eg. converting houses into flats.
Conversion and improvement work
Particularly for remedial treatment of existing floors
Cormet Acoustic Flooring
Floor: Cormet Acoustic Floor system using 18mm plywood/tongue and groove chipboard or oriented strand board with salvaged, re-used or
new 22mm square edge softwood floorboards laid on top if required.
Insert an additional layer of 15mm Lafarge Firecheck wallboard inside
the cavity to form a bridge and to protect sides of joist.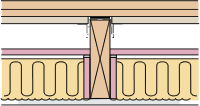 Joists: 50 x 200mm at 450mm centres
Insulation: 100mm glass mineral wool density 10.5kg/m3
Ceiling: existing lath and plaster
Everything for Metal Partitions
Cormet Partitions are suitable for domestic and general commercial use. They are strong high performance systems which are:
Cost effective
Versatile
Lightweight
Able to achieve high levels of fire resistance, acoustic and thermal insulation
Cormet Sound Resistant Partitions, Non Loadbearing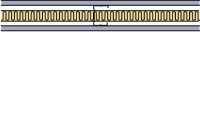 Studs: 50mm width at 600mm centres
Facings: one layer 12.5mm Lafarge dBcheck wallboard both sides
Insulation: 25mm glass mineral wool density 19.5kg/m3
Acoustic rating: Rw 44 dB