ROOF WINDOWS
Fakro – thermo plus roof windows
10 key reasons why Fakro manufacture the most unique Thermo Plus roof windows:
10 key reasons why Fakro manufacture the most unique Thermo Plus roof windows:
FSC Certification
BBA Certification – No. 02/3944
Triple matt lacquer finish to all visible timber surfaces
All Timber used is 100% clear Redwood Pine (Knot-Free)
Double Vacuum treated
Glazed area up to 10% greater on all windows
Energy efficient 1.4W 'U'value
Easy to use handle placed at the bottom of the sash, provides easier access & allows for the window to be installed higher up on the roof
The only standard roof window to include triple seal and Class 4 Airtightness
Bottom sash and frame joints have 'Joint Sealant', which reduces end grain shrinkage and timber movement. Increases durability.
Probably the most secure standard roof window available
Fakro roof windows offer this and more
All FTP-V & FPP windows come fitted with an automatic air vent as standard
NHBC compliant
Designated "EXT SAA" fire rated
Toughened glass to external pane
Low emission coated glass to inner pane
24mm double glazed unit. (4mm – 16mm – 4mm)
Glass unit Argon Gas filled, giving greater heat retention on the inside and deflection on the outside
2 Auxiliary micro opening positions on the handle
Integral ventilation chamber positioned in the framing, complete with built-in fly screen
Well designed hinge incorporating clutch mechanism
All aluminium profiles are 1mm thick and coated with UV and weather resisting polyester powder coating
All fasteners are stainless steel
Unique design of the timber profiles allow better aircirculation – reducing condensation
All sizes are familiar to customer
Easy installation method, bracket fix which can be used on battens or rafters
Thermal bridges reduced by the use of additional timber elements and double-seal gaskets
Widest standard range of ex-stock centre pivot windows
Full range of conservation windows
Full range of flashing available to suit most roof coverings – tiles, slates, plain tiles etc
Range of blinds, accessories available from stock
Electronic opening systems available
Duet and Combination windows available
6 sizes of top-hung window available
3 sizes of top-hung escape window available
2 sizes of side-hung escape window available
3 sizes of conservation windows, plus top-hung emergency escape window available
Side-hung escape conservation window available
Our Thermo-lux range has laminated glass to inner pane, toughened glass to the outer pane
White 4 coat polyurethane varnish finish available from stock
Obscure glass windows available
Special size windows made to order
Flat roofing system available complete with laminated glazing
Access roof light available
Centre pivot windows can be fitted at 15 to 90 degree pitch
All stock items available 2-3 days from order
Aluminium-clad PVC roof windows PTP, PTP-V
Aluminium clad, PVC roof windows are ideal for installation in loft rooms where humidity levels may be high e.g. bathrooms and kitchens. They are also suitable for customers wishing to have a white and easy to keep clean frame.
The PTP is a pivot type window made of white, multi-chamber PVC-U profile strengthened with galvanised steel. Such construction ensures exceptional dimensional stability and prevents frame distortion.
The roof window is durable, corrosion-free and resistant to extremes of weather so maintenance is reduced to an absolute minimum. The PVC does not absorb moisture and is resistant to acid and most air pollutants.
Features:
4H-16-4T single-chamber glazing unit with a toughened external pane and internal pane fitted with a low emission coating
U-value – glazing 1.0 W/m2K according to EN674
U-value – window 1.4 W/m2K according to EN1267-2
Triple sealing system: frame's adhering seal, peripheral seal and seal in frame's covering profiles
1.0mm thick, trapezium profiles pressed out of aluminium sheet which adds to their rigidity and increases the profile's resistance to mechanical damage
In PTP-V air inlet V35
New, white handle positioned in the lower part of the frame enables easy operation and two-step microopening facility
Suitable for roofs with pitches between 15° and 90°
Installed with flashings identical to those used with Fakro timber windows
Wide range of accessories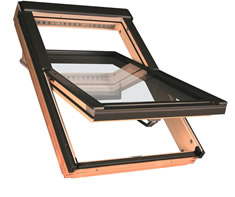 Just look at the Fakro range
Centre Pivot Roof Windows
Top Hung Roof Windows
Pivot / Top Hung Combined Roof Windows
Side Hung Roof Windows
Conservation Centre Pivot Roof Windows
Conservation Side Hung Roof Windows
Aluminium Plastic Clad Roof Windows
L-Shaped Combination Roof Windows
Vertical Combination Roof Windows
Top Hung Escape Roof Windows
Side Hung Escape Roof Windows
Smoke Ventilation Roof Windows
Flat Roof Systems Windows
Access Roof Lights Roof Windows
Moisture Resistant Roof Windows
Triple Glazed Roof Windows
Arch Topped Roof Windows
Curved Roof Profile Roof Windows
Stained Glass Panes Roof Windows
With flashings to suit all roof coverings